Nuovo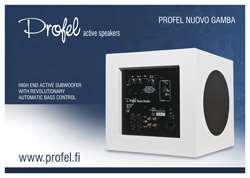 Profel Nuovo high end active speaker series
The Nuovo series open new possibilities to enjoy high quality sound in your living room. The Nuovo experience harmoniously combines active studio speaker technology with refined design complelenting comfort of the home environment.
Profel Nuovo high end series:
---
Nuovo Settanta
2-way active speaker - Jubilee model
Profel Nuovo Settanta continues the traditions of Nouvo Trenta to create a loudspeaker with intriguing form that is combined with precise and inspiring audio performance. The cabinet uses plywood for strength which also gives the sides a beautiful striped wood finish, crowned with carefully polished lacquer in seven layers. Painted finish is optional.
The 2-way bass-reflex cabinet is equipped with high-end speaker elements and bi-amplified by Profel analogue amplifiers. Nuovo Settanta is a well-balanced stand speaker and despite its small size it provides wide dynamics. There are also inbuilt controls for fine-tuning the overall balance of the speaker to compensate room acoustics or to suit listening preferences. Room adjustment is effective for treble, midrange, and bass. To extend the bass range the subwoofers from the Profel Pro Audio range are perfectly suited for the task: PA65SW and PA80SW
"Nuovo Settanta is not the flagship of Profel speakers, though it may just be... if we consider how much music makes us feel good with certain loudspeakers..."
audiovideo.fi - Samu Saurama 2013 (in Finnish)
Technical parameters

:
1" tweeter with ring radiator
4,5" woofer with phase plug
40+40W amplifiers
maximum sound pressure 113dB pair@1m
frequency response 55- 22000Hz
signal input connector: RCA
room adjustment: treble, mid, and bass
weight: 3,9 kg
dimensions h x w x d
250 x 155 x 175 mm
---
Nuovo Gamba
high-power subwoofer with inbuilt DSP bass-control
Nuovo Gamba high end subwoofer presents a perfect extension for your living room audio experience featuring superior control over bass response. An all-in-one solution for high quality bass reproduction enhanced with an integrated DSP-based worldwide highly praised and awarded bass-control system (DSpeaker Anti-Mode™ by VLSI Solutions).
The optimal placement of loudspeakers in a home environment may be difficult. Especially bass reproduction can be often severely impaired due to unwanted resonances, room modes. After a simple calibration process, the new Nuovo Gamba subwoofer automatically corrects measured limitations of room acoustics thus substantially improving control over low frequencies. You can place Nuovo Gamba virtually anywhere you prefer in your room and still achieve maximum performance, full dynamics, and unmatched precision for music and home cinema scenes.
"Colorfully moving walls
Rare subwoofers can do this. That is, to playback demanding bass material with precision, richness and truthfulness to the original source, yet perfectly integrate with other parts of the sound reproduction system, so it cannot be perceived as a separate sound source. I raise my hat to Profel Nuovo Gamba."
"Bass reproduction is rich in tone, credible, reaching deep, and all this is done effortlessly."
Samu Saurama (in Finish) Audiovideo.fi
Technical parameters:
Two 10'' subwoofer elements, facing to the opposite direction from each other minimizing cabinet resonance, closed cabinet design

Two 250W amplifiers, one amplifier per element
Anti-Mode™ calibration control panel, calibration microphone included
Basic calibration, bypass, and two lift equalizer modes
Electronic overload protection and automatic signal level control
Effective frequency range 20-150Hz (+/-3dB)
Gain, Low cut, High cut Line out adjustment
Phase control with bypass function
Balanced XLR and unbalanced RCA signal connectors, stereo in/out
Dimensions: 390 x 390 x 390 mm, sealed cabinet, weight 27kg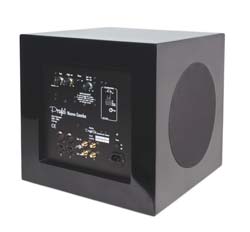 Nuovo Gamba product info
PDF (1.9MB)
---
Nuovo Quaranta
3-way active floorstanding speaker
Our state-of-the-art model, Nuovo Quaranta is a 3-way full active floorstanding speaker which delivers extremely wide dynamics and crystal clear sound for home entertainment applications. The low-frequency output is separately adjustable along with additional room and tone adjustments to enable easy positioning virtually anywhere in your room.
The Editor's Choice - 1/2008 MikroBitti HIFI

Technical parameters:
Slim design with side facing bass-driver
RCA input (optional XLR)
overload protection
50 W + 50 W amplifiers for the mid- (4,5") and high-range (1") elements
custom wave guide for the tweeter
250 W amplifier for bass reproduction (8,5")
master volume (high and low frequencies together)
separate bass level adjustment
treble tilt -1 & -2 dB
distortion free long bass reflex construction, sealed top compartment
frequency response 20-20000Hz
maximum output 122dB per speaker
weight: 22kg
Finish: white or black structure matt paint, other colors and finish options as requested, such as high gloss finish.
Nuovo Quaranta brochure web (pdf, 504KT) - brochure hq (pdf, 5632KT)
---
Nuovo Trenta
natural smoothness
The design of Nuovo Trenta received a lot of attention as the opening model of the series. It combines natural materials with a smooth curved outline, the massive birch provides an ever living fascinating surface. Regardless of its small size it retains all the advantages and overwhelming sound quality that
Technical parameters:
RCA-signal input
magnetic shielding
overload protection
massive birch bass-reflex cabinet
frequency response 60-22000 Hz
123 x 200 x 150 mm (W x H x D)
2.2 kg
Birch floorstands are included by default.
Recommended subwoofers: PA65SW or PA80SW (image on the right)